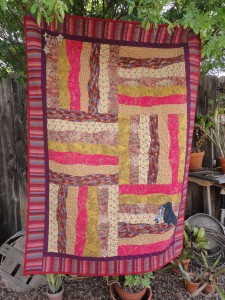 I was fortunate to be able to take a class on gentle curved piecing with Karla Alexander a couple weeks ago. custodia 360 iphone 6 plus She has a great method using a "stack the deck" technique. custodia iphone 6 nba She offered a wealth of information and tips for success. Check out her website for great books and tools http://www.saginawstreetquilts.com/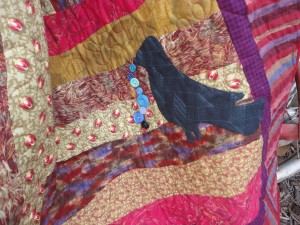 Here is a close up of the crow I added with a string of buttons in its mouth. It makes it more "me." I started on Saturday with 6 fat quarters, cut the strips, shuffled the deck and put it all back together in about an hour. I squared up all the blocks and sewed them together, then auditioned borders on Sunday. That was the most time consuming. After making my selection, I added borders, batting, backing and did an all over stipple quilting. The quilt was totally completed by the time of the lecture on Monday night. This was ONE FUN QUILT to make!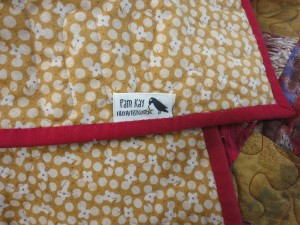 My label on the back makes it complete!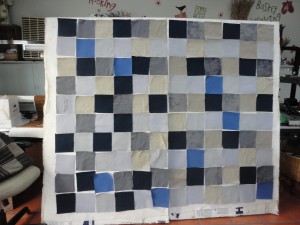 I made a memory quilt with various neutral knits and canvas and twill fabrics. The knits needed to be stabilized and arranged in a pleasing manner.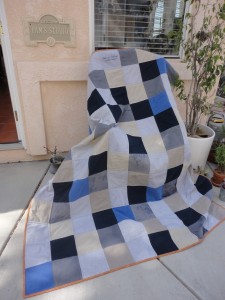 And, isn't it nice once it's all seamed together and quilted. The fluffy rust colored flannel back is nice and cozy. It's a great quilt to keep a loved ones spirit near. custodia iphone 6s plus pelle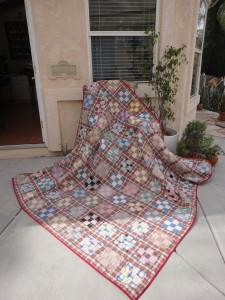 I had this hand pieced plaid 9-patch top for a few years now and decided it was time to quilt it up and make it useful. I love plaid, and I think this is especially charming with the plaid sashing. The hand piecing is outstanding.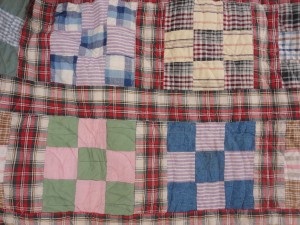 The solid green was pieced to make the 9-patch. I love the "make do" attitude of the seamstress. Who would dream of joining those fabrics together?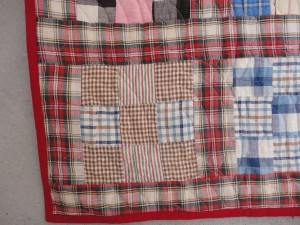 How funny this corner 9-patch is! The overall effect is one very interesting quilt. I like using the Baptist Fan pattern to quilt these old tops. I think it is probably 60-70 years old. I'm glad it's finally the quilt it was meant to be.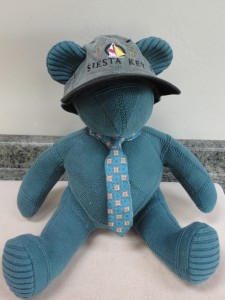 The latest challenge was to create a memory bear using a sweater, necktie and baseball cap. custodia 6s iphone gato grigio I think it turned out adorable.