Sometimes I get technically challenged. I do know how to use WordPress and am able to insert pictures, crop them, rotate them or even change their size! For those reasons, I am going to use my Blog to share the mystery quilt reveal.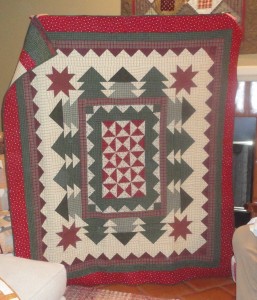 On July 27 of this year the 3rd Annual CDA Mystery Workshop took place from 8:30 a.m. to 8:30 p.m. with three delicious meals and snacks and a whole room full of excited workshop participants getting their first instructions for the day. The quilt pictured above was made by Patt Anderson, who graciously tested the pattern for me and included some corrections and suggestions. I love the way it turned out, it is a bit scrappier than the original pattern by Lynette Jensen of Thimbleberries called Forest View. Last night we got a chance to see some of the quilts that came out of that workshop. Remember, if you double click on the picture it will be bigger.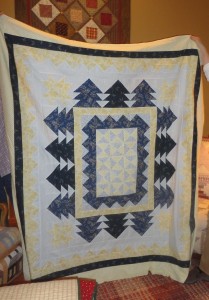 This beautiful quilt top was done by Cristie McGuire. I'm sorry the lighting isn't better. It's a beautiful blue and yellow, very soft, very romantic, in my opinion, very French looking. It is going to be fabulous all quilted up.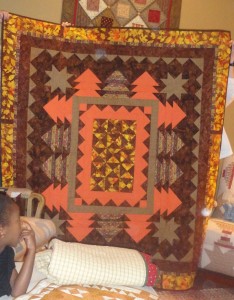 Now check this one out, done by Stephanie Jordan. WOW. Right away I thought of Fall Nights and pumpkins and halloween and thanksgiving. It is stunning!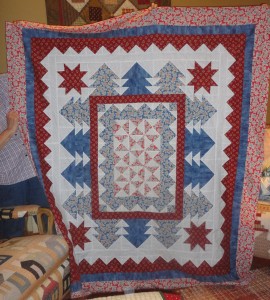 I just LOVE this one done by Camelia Gower. She did it all from her stash. I'm so impressed. I especially love the scale of her prints. I tend to use very small prints that nearly read solid. The outside border and the light trees really have interest with a bit larger scale print.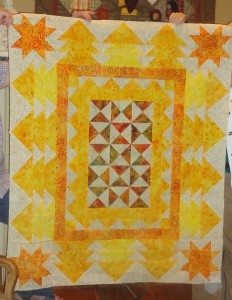 Sheila Williams told us to put on our sunglasses to look at this one. I don't think it's too bright! I called it a citrus forest. She had borders on but didn't like them, so she's going to try again. How sunny and happy it is!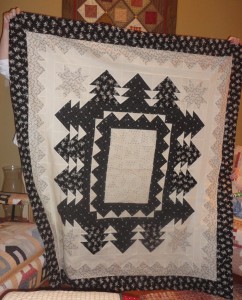 This one is by Linda Fore. custodia iphone 6s ultrasottile I think it is so sophisticated. I think I called it Tuxedo Junction, because it looks so formal and reminds me of a tuxedo and white shirts. It is subtle and fabulous all at once.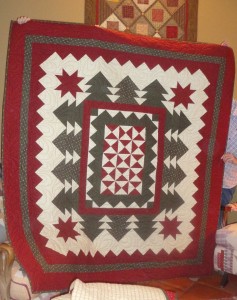 This beautiful COMPLETED quilt is the work of Marilyn Fingerman. I'm so proud of her. She did a meticulous job of piecing, pressing, trimming: everything required for an award winning quilt. It is definitely a Christmas quilt, and so beautiful with the Moda prints.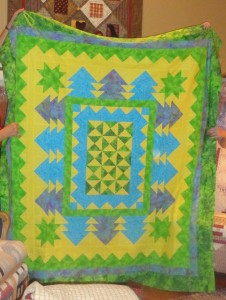 Barbara Groner also told us to put on our sunglasses. Well, don't you think this is just one cheerful quilt? Who could feel sad or depressed among all this color? I think it is awesome to see how various colors used in different places change the whole look of a quilt.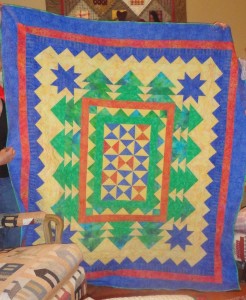 And how fabulous is this one??? Carol Neely made this for her first grandchild. It is so happy and fun. I love that she included orange, yellow, blue and green in the quilt, when only 2 colors and a background were required. This is a perfect child's quilt!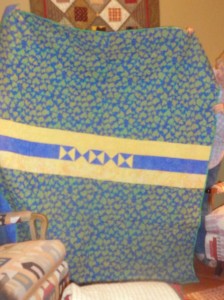 Carol even did a fun back with a couple leftover units from the front. custodia x iphone 8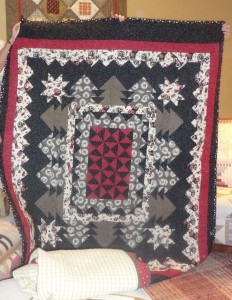 This one is by Ave Maria Reed. She is going to give it to her son. I love the scale of the white print. It is so energetic and interesting. What a wonderful quilt!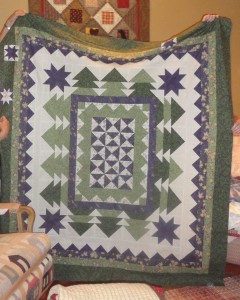 And then there's Kay Laboda. She always puts her personal touch on things, notice the extra sawtooth star blocks in the border? Although it's not perfectly clear here, the colors are a beautiful purple and green. Kay used the left over fabrics from last year's Mystery Quilt Workshop. Way to go, Kay!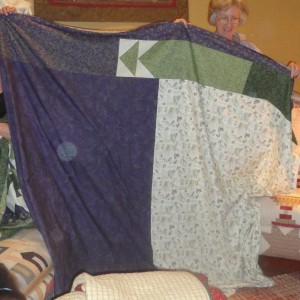 And Kay shared her "back art" as well. Fantastic use of the extra flying geese!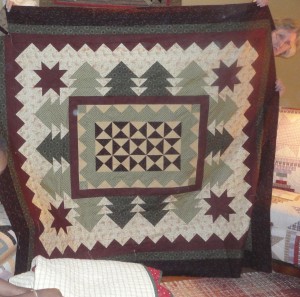 Too bad the colors aren't true on this. custodia in pelle iphone 7 It is an absolutely gorgeous color combination of maroons and apple cider colors. Mauri Hays did this one and amped things up a bit by mitering all the outside borders. It is a very formal looking quilt.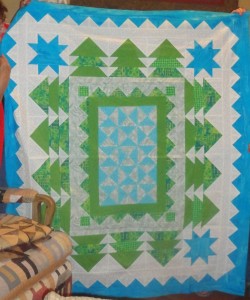 Ruth Simons did this one in scrappy blues and greens. She is going to leave it borderless, as it seems the perfect size and color just as it is. Very cheerful!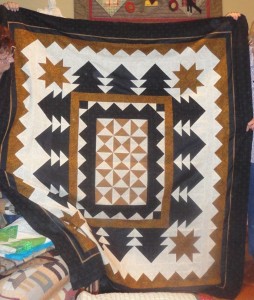 And this one by Wendy Held is very masculine and beautiful. Wendy added a tiny flanged border to give it extra pizzaz. custodia con anello iphone 8 It is a very handsome quilt.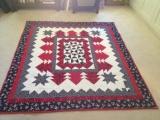 Then, there's this one by Kathy Pike. Looks great, huh? But wait! Check out the fabrics she used!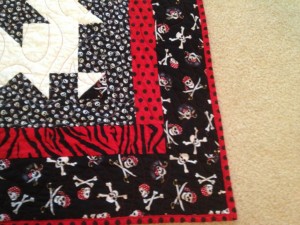 WOWZA! It's for her nephew, and he's going to LOVE it.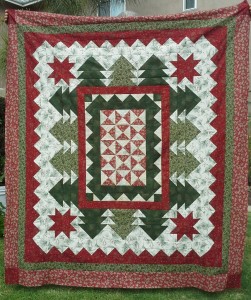 Sally Parrish used a wonderful line of Moda Christmas fabrics. She's always wanted a Christmas quilt, and this one certainly fits the bill. I love the White pine tree fabric. You can almost smell the trees! Well, there you have it! The 2013 REVEAL. I'll be happy to add to this post and put YOUR finished quilt top in the line up. Aren't they all so very different?? Do you have a favorite? I'd enjoy hearing your choice. custodia iphone 7 portafoglio Next year's Mystery is being planned for July 26. You can sign up on my website under "classes" and the class size will be limited to 30. Don't hesitate to sign up now. One thing I can tell you about the 2014 mystery: You'll be able to make it in a multitude of sizes, so if all you're looking for is a baby quilt or lap quilt, you're in business! It can also be made King sized, which is a favorite option for some and various sizes in between. Thanks for stopping by.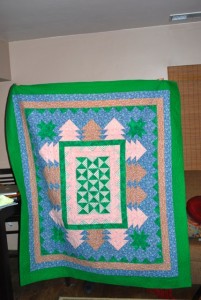 And here's Veona Knorr's version of the mystery quilt. Don't you just love the cheerful colors?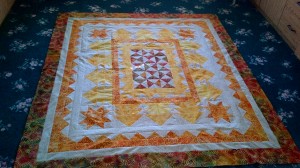 And, drumroll please, here's Sheila William's mystery quilt. I think the outside border is just what this quilt needed. How sunny and bright~! Don't you love how everyone has such a unique quilt from the same pattern?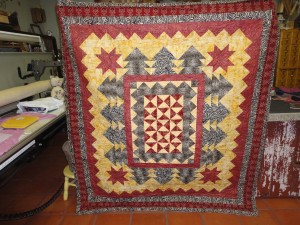 And here's D'Andrea Mitchell's stunning safari looking mystery quilt. Such vibrant prints and terrific colors.