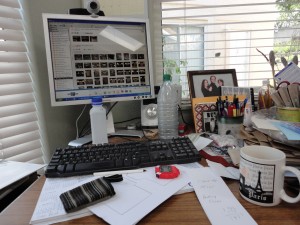 Here's where I sit to compose my posts. The sun was shining brightly, so I closed the shades off to my left. I had my morning coffee, a couple of bottles of water from before, a vessel full of writing utensils, a stack of "to go through" and a picture of my three kids. I have a beautiful view and I spend a good bit of time here.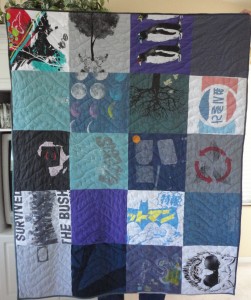 I finished this t-shirt quilt today, as simple as it is, I think it is very pleasant. It goes in every direction and has a good balance of color. The quilting is very simple, a stair step up and stair step down with a simple curved line over the top and bottom of the stairs. The quilt has a wonderful weight and drape, the t-shirts are extra soft.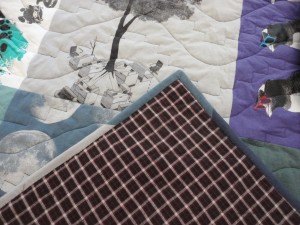 I like to use left over t-shirt fabric for the binding, it makes for an extra soft edge against the skin. It is a little trickier to work with, but keeps the character of the quilt. Of course there is quite a bit of piecing, but the bias seam and change of colors works very well. The plaid back keeps the whole quilt masculine.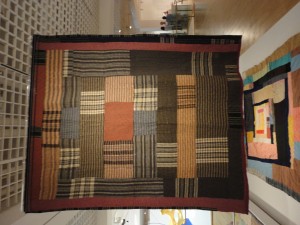 After I finished the quilt, I treated myself to a couple of hours at the Mingei Museum in Balboa Park where there is a wonderful display of African American Quilts from the collection of Corrine Riley. Oh, how these quilts feed my soul. . . custodia iphone 6 nera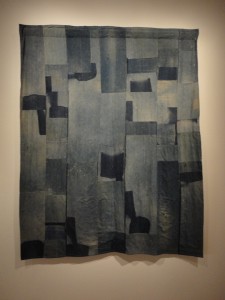 This was one of my favorites. It is made entirely from work clothes–front and back. It was tied, and the colors, the fabric, the story it told make me want to touch it. I asked a docent if I could look at the back, but no, they wouldn't allow that. I love the way the denim is faded, but where the pockets were removed the dye is still bright.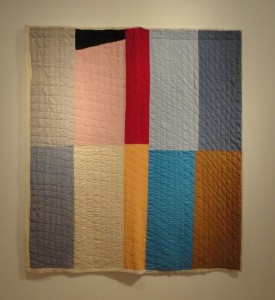 The one on the right is the first quilt Corrine started her collection with. custodia a portafoglio journal di twelve south per iphone 8 7 I like the simplicity. It seems like something I might want to try. custodia iphone 6s colorate I think it would be fun out of corduroy or another unlikely fabric. custodia waterproof iphone se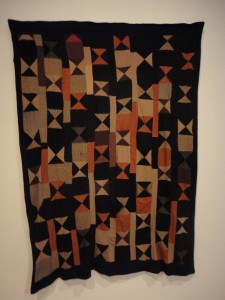 This one is really saturated in color. I love the way the cheddar comes forward. There was a liberal use of black in many of the quilts. I like that a lot. It adds a richness. I sat down on the seat provided and did a little sketch in my artist book. I sketched out another one a bit later. Then I asked a docent if he could help me shut off the flash in my camera, as I had seen him helping someone else. He was very helpful, then told me I could snap away! I was approached by a museum goer who whispered that she didn't think I was supposed to take pictures, but I said I had permission. It is always a good thing to ask permission to photograph things. It is also a good thing to keep your hands in your pockets. I observed a mother showing her child a certain fabric used in the quilt as she and the child put their hands on the quilt. I know that quilts are meant for handling, but if every one of the thousands of people who came through did that, the poor quilt would be worn out. Hands off!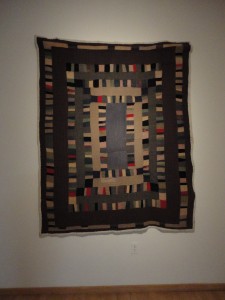 Even though this quilt isn't perfectly rectangular, it has so much charm and appeal. I took out my sketch book again, and while looking for the next blank page, I came across this: Feed your artist, go to a museum, people watch, sketch rather than photograph something you like.