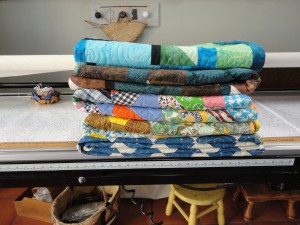 Aren't you just drooling to see what these lovelies look like all spread out? They were such a rescue! All so different, and all so wonderful. OK, the top one is a contemporary quilt, I'm going to skip showing that one. Remember, if you double click on the picture it will get larger. custodia microfibra iphone 6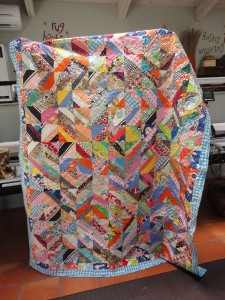 Here we go with the first one. Totally scrappy, totally random piecing, but when you look a little more carefully, you can see they are the same size squares assembled together. Total transformation from what looked uninspiring to something you'd be proud to drape at the end of the bed!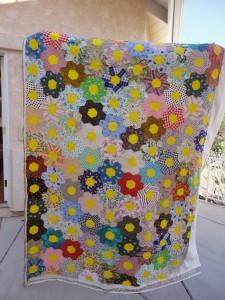 And how about this one? A Grandmother's flower garden with bright yellow centers. custodia iphone 8plus antiurto Oh, how to quilt these? I use an overall edge-to-edge pantograph very successfully. custodia frida kahlo iphone 6s The edges of the quilt were all hexie, and the owner, not wanting to spend a lot of time and money binding them gave me permission to square it off. It makes perfect sense to me. custodia mercedes iphone 8 It looks fantastic.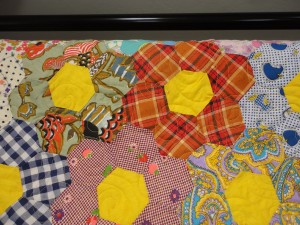 Look at these funny fabric combinations! Paisley, floral, plaid, gingham, birds, and large scale prints. Anything goes! And in the end, quite successful!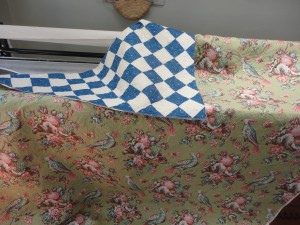 And then my favorite–the large green print is the back of the quilt, which I think is absolutely stunning and wonderful with the simple blue and white top.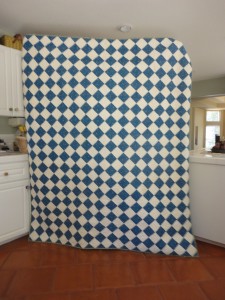 It is simply 4″ squares on point. The blue block has faint polka dots in it.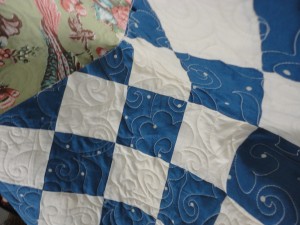 The quilting pattern is lovely small flowers with meandering between them. It turned out to be so stunning! And with a green binding!! I didn't want to give it back. Wouldn't it be fun to have a slumber party and let each guest select her own quilt to snuggle under? 3 Lessons learned: Never turn your nose up at a quilt top. custodia anello iphone 6 plus Quilting makes the quilt.