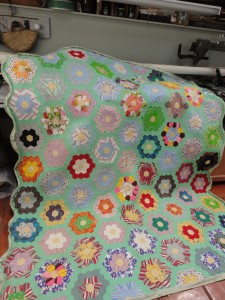 I'm kicking myself again for not taking a "BEFORE" picture. This Grandmother's flower garden quilt was one of the wonkiest I've ever worked on, and I've worked on a lot. custodia tech21 per iphone 7 Let's just say the skill level was in the bottom third of the class. It is hand pieced, but not well done. custodia iphone 8 plus inter The fabrics are not all cotton, and they were pieced upside down on occasion. custodia iphone 6s per correre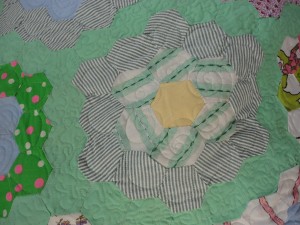 I normally do an all over Baptist's Fan on old quilts, but this one wouldn't tolerate that kind of treatment. A teacher who stayed with me in September sent me a few ideas for quilting this kind of quilt, and I found one of them to be just the ticket! I stippled in the green area to calm it down, then did swirls and petals in the flower part.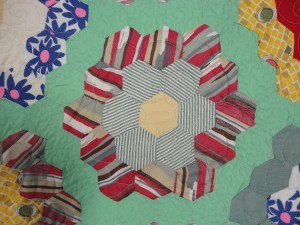 And though it was time consuming, I think the overall effect is great. And it's a really cute quilt, totally usable, funky and fun! Who would ever dream of putting these fabrics together, and yet—what charm!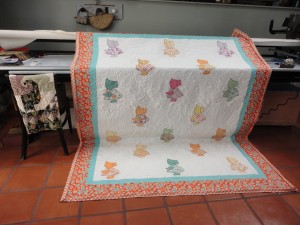 My next quilt challenge was an old Sunbonnet Sue top. It has lots of wide open space for custom quilting and designs, but instead a simple overall pattern was selected. I think it is very effective. custodia apple iphone 4s The top was without any borders, so the addition of the aqua green and orange borders turned it into a queen sized quilt that will look fantastic on a bed.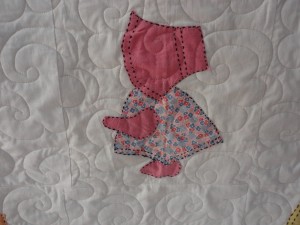 You can see the rather primitive stitches used to attach the Sunbonnet Sue.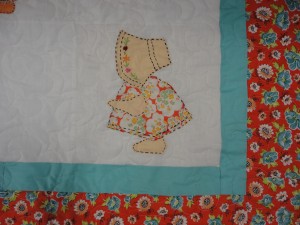 Three of the girls have these sweet little embroidered flowers in their bonnets. I'm so glad this doesn't have to be sitting in a closet going unused. I think any top, no matter how primitive or wonky has the possibility for a good life as a finished project–with a little bit of creativity.