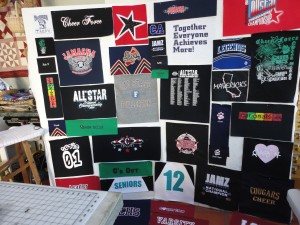 I was commissioned to make a quilt using this girl's cheer outfits. custodia iphone 8 ancora Some were cotton t-shirts, some were polyester uniform tops, some were nylon warm-up jackets, there were some sweat shirts, a skirt, and even a sports bra! Where to begin? The quilt needed to be at least 81 x 86, so I started with the largest size rectangles possible. custodia iphone 7 plus legno They were in no way supposed to be the same sizes. No problem. I fused a light weight interfacing to each garment and began the task of cutting accurate rectangles.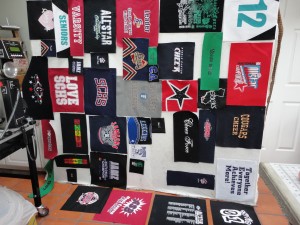 Then I laid them out on the design wall in rather rough rows. I had to lay it out sideways to achieve the correct dimensions.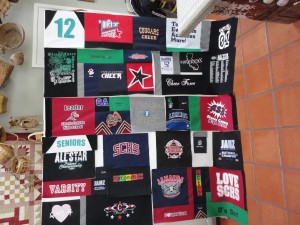 Then I started joining rectangles together and inserting small chunks of colored t-shirts where necessary to plump up the row and make it come up to size.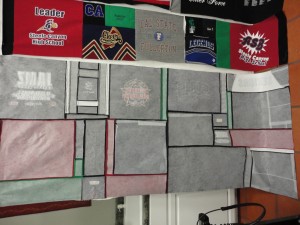 And each time I added something, I needed to give it a really good pressing. This is challenging, since the fusable on the back requires quite a bit lower heat than what I'd use on cottons. custodia iphone 7 portafoglio There was enough polyester and nylon in the quilt top, that it also needed lower heat. The key, then, to a good press, is pressure. I really leaned on it!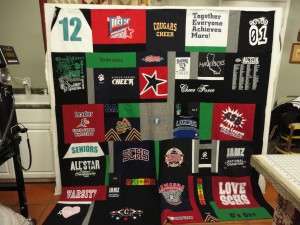 It took quite a while, but it finally came together. The last thing I needed to do is add a strip of black all the way around. custodia iphone 8 libro specchio . . give it a frame.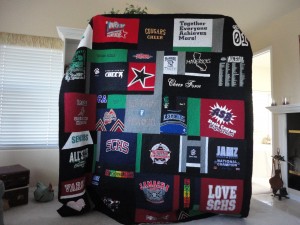 And last, but not least, quilt it and bind it. That was no small feat, given all the heavily embroidered patches and rhinestones. I did a stipple and star pattern and avoided all the aforementioned embellishments. It turned out GREAT! It is as heavy as the lead apron the dentist lays on your chest before taking x-rays. It feels good.