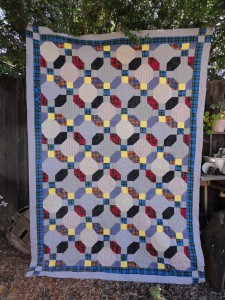 This is my friend Phuong's 7 shirts quilt, but a variation on the pattern because she made it twice as large with no piano keys borders. I just love the way the yellow comes at me. Word has it that yellow is a very difficult color to use in a quilt. It is sunny and cheerful here. Just the right touch, in my estimation. She is going to give it to her dad for Father's Day. It seems so right.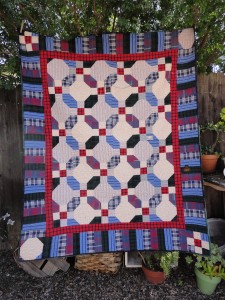 This is a picture of my second 7 shirts quilt, made according to the instructions. custodia iphone x in legno I love the size, the look, the coziness of it. It would be terrific to keep in the trunk of the car for an impromptu picnic or to lay down on the grass in the park or even at the beach. custodia iphone x wood It's all recycled fabric, and no huge investment, so why not? It's two blocks, a nine patch and a snowball. I think I'll be making this one yet again. I have my friend Michele to thank for these. She collected the shirts and gifted them to me several months ago. My Wednesday sewing group was invited to go through the box and pick out what they wanted to make this quilt. I'll post a picture of the quilt my friend Kay made next week. custodia iphone 8 plus juventus Aren't they fun??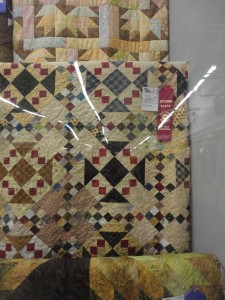 Oh, I went to the San Diego Fair today, opening day, and after a bite to eat we went to the Home and Hobby building where I was pleasantly surprised to see my quilt with a second place (in the professional division) ribbon. It seemed like there were fewer quilts this year, but it could be my imagination.