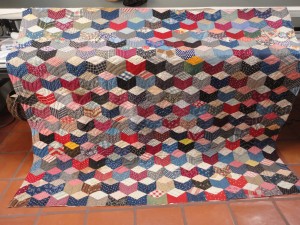 I absolutely LOVE this fantastic hand pieced vintage quilt top that I recently quilted on my long arm machine. I used a Baptist Fan overall quilting design. I studied the fabrics and would guess that some of them are as old as the late 1800s. custodia iphone 8 puro Some are circa 1930 also. Oh, the work someone went to to put what I think is a masterpiece together! I hope they are smiling down from heaven now that it is a true quilt with a back and some batting and a black binding (not shown) that completes the stunning piece. I don't own it, but put first dibs on it.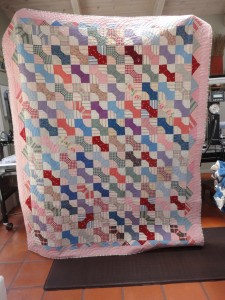 This charming bow tie quilt is also vintage. custodia iphone se legno My client found it at the swap meet. It is so well balanced and happy. I love the triangle border around the outside. I added the pink outer border, and the unusual striped binding sets it off perfectly. There is a humility block in the quilt. Can you find it? Hint: it's in the second row from the bottom. It gives me such joy to FINISH a quilt. What good is a top? Oh, I know for study purposes it is a valuable teaching tool, but I believe the person who pieced the top didn't do it just for fun so it would be rolled up in a box in the back of the closet. This gem can proudly rest at the end of the bed and warm a napping body on a lazy afternoon.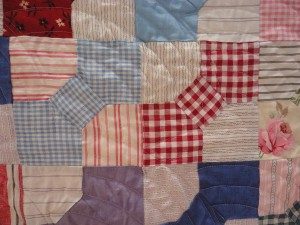 Here's a close up of the blocks and the quilting. You can see there are a few pleats because of the nature of the beast, but I think after a washing and drying they will shrinkle up and be completely unnoticeable. (I used warm 'n' natural batting, so a little shrinking will happen.)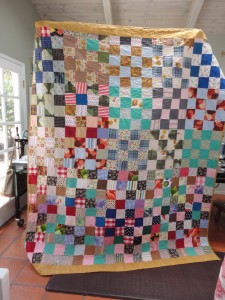 Here's another vintage top I completed. This was pieced by machine. My thought is the blocks came from leftover fabric from other projects–clothing, curtains, upholstery. It has a wide variety of fabrics and blends. I can just imagine this one on a grassy lawn on a summer day ready to host a picnic. custodia iphone 7 calamita It is unpretentious and FUN! It is sturdy and now totally serviceable. I would guess this one to be only 40 or 50 years old.