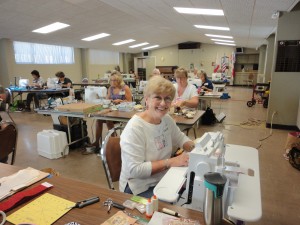 Saturday was a great day for the participants in the Catholic Daughters of the Americas Mystery Quilt Workshop to benefit Project Handclasp. CDA is an organization I've been a member of for 25+ years. Our motto is Unity and Charity and we support various efforts, such as purchasing treadle sewing machines for developing countries that are delivered by the United States Navy through Project Handclasp when they have space available on their ships. We had a great space with lots of light and plenty of room to move around. custodia iphone x divertenti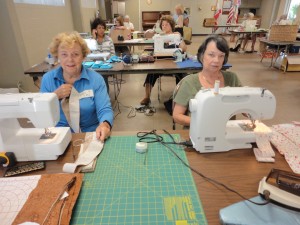 There were two long lines of tables with two people per table. Students had a wide range of skill levels and everyone worked at her own pace. Everyone was given the first set of instructions at one time, then steps were presented on a "need to have" basis. It was supposed to be relaxing, no stress, and no race to keep up with everyone else.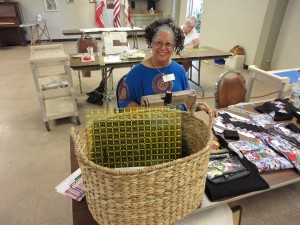 There were a lot of happy sewers who were enjoying the day with no clocks to watch, no distractions, and no meals to prepare. An entire day (8:30 a.m. to 8:30 p.m.) to sew and enjoy the company of other quilters. moleskine custodia iphone It was a little slice of heaven. The meals were delicious! After lunch we were treated to a wonderful trunk show with handsome white gloved men displaying the beautiful quilts of Clara Gibson.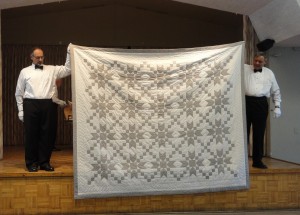 The show began with a story about this quilt that was carefully made and hand-quilted with pre-washed fabrics. When the quilting was done, Clara decided to wash it, and to her horror, the blue bled into the white background. The only way she could fix it was to bleach it. The resulting soft gray looked beautiful to us, but after seeing what the original color of fabric was, we could understand how upsetting it was. (This quilt is our mystery!)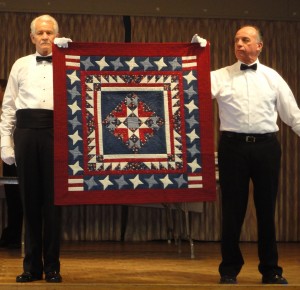 Our eyes feasted on a wide variety of pieced and appliqued quilts, one more breathtaking than the one before.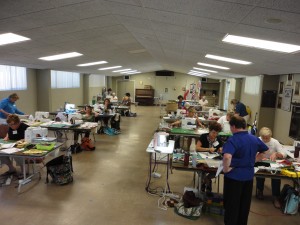 After the trunk show, we got back to work and chipped away at the various steps of sewing, pressing and cutting. Still, nobody knew what they were making. We took one minute stretch breaks throughout the day, and at 3:00 we had freshly squeezed lemonade.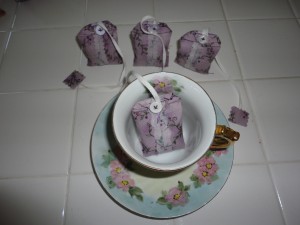 Each person got a lavender tea-bag sachet as a thank you for taking part in the Mystery Quilt Workshop. It provided great aroma-therapy with the relaxing fragrance. The lavender is from my garden!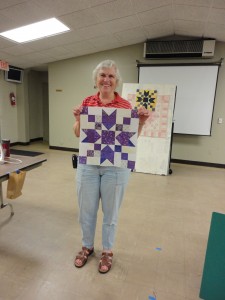 Finally, the mystery of the block was revealed. Ruth has a great color combination. (The one behind her on the design wall is mine–blue and yellow)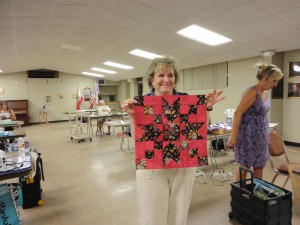 Camelia's is rich looking with a red back ground.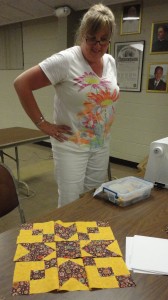 Janet's is done with a Kaffe Fasset fabric for the focus and a cheery yellow print that will translate into a gorgeous quilt. We will be getting together for a reunion to show off our completed quilts in a couple of months. I can't wait!!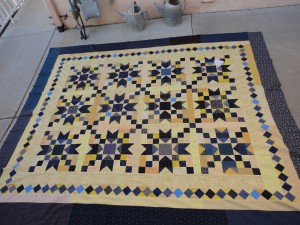 And here's a picture of my completed quilt top that I used for a class sample I made it completely scrappy, not purchasing one thread of fabric. Some was so old, some were my very favorites, and some was plain ugly, but I think it turned out great. custodia iphone 6 moschino The Seminole pieced border frames it nicely.