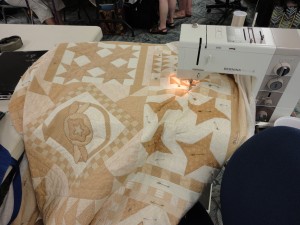 It has been a while since I've been able to post. Where to start? I have been on a quilting retreat for the last three days and brought several quilt tops that needed to be finished. This one, I think I'll have to call it "Well Seasoned" was the first to get quilted. I did a lot of in the ditch and outline quilting. It is backed with a home decorator fabric because it is more than 44″ wide and I do everything possible to avoid piecing a back. The 54″ wide decorator fabric is a beige and white stripe, so it is perfect. It has a beautiful weight and body, so the end results are very pleasing.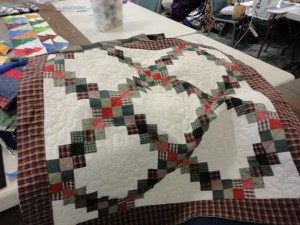 The quilt on the right could also be called well seasoned, as it has been ready for quilting for 15 years. I still love it, the pattern is called Confetti Irish Chain. I am trying to sharpen up my quilting skills, so on this one I practiced doing feathers in the large open areas. Once I have it bound and washed, the uneven stitch lengths and lumpy feathers will be disguised. The overall effect is pleasing, but my eye definitely sees areas that need improvement. custodia iphone 5s a fiori se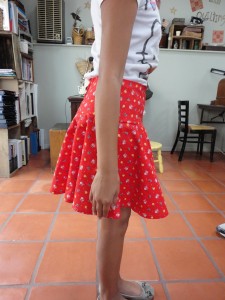 This darling little skirt was made by my 9 year old sewing student. She has been taking classes from me since March. custodia iphone x flip She has sewn tote bags, aprons, bean bags, pajama pants; they have mostly been straight seam projects until now. Her goal is to make her own clothing, and with some watchful guidance she has made her first circle skirt. It turned out so well and I'm so proud of her. custodia antipolvere iphone 7 It has proven to me that where there is desire there is success if you put in the practice time.