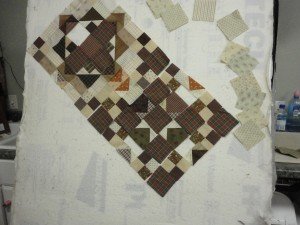 The two quilt blocks on the design wall are components of the 2012 Mystery Quilt by Bonnie Hunter.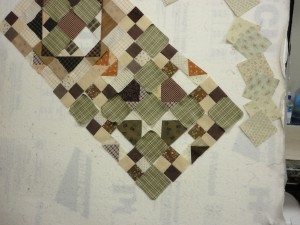 I had most of the basic units done, but waited to join them all together in a block until I knew what the pattern was going to be. I auditioned at least 10 fabrics before choosing the maroon plaid in the end.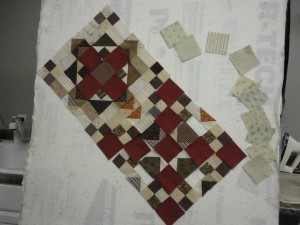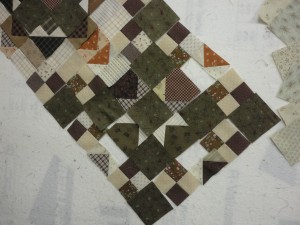 When I finally chose the "right" fabric, there wasn't enough of it!  I had to go with three similar fabrics, which is all right with me. It makes it more interesting and totally more scrappy.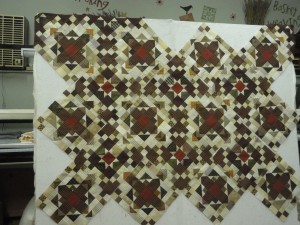 I tried to put all the blocks on the design wall, but they wouldn't fit. This is going to be one big quilt!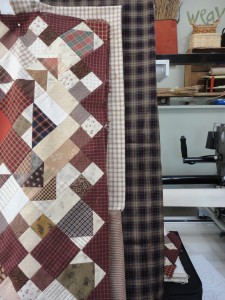 Then I had to audition borders.  Can you tell I love plaid??
The next decision I had to make was how to quilt it.  Since it was so angular and had so many straight lines, I chose a curled feather, an all over pattern with pretty dense coverage.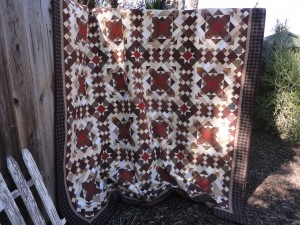 And here it is, all bound and ready for the bed.  It is a king size quilt.  The original pattern called for limes and teals and purples: http://withstringsattached.blogspot.com/2013/01/dwm-swap-results-and-easy-street.html  You can look at other images if you do a Google search for Easy Street Quilt images. It's fun to look at all the color combinations.