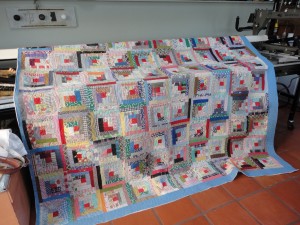 I simply LOVE the way this antique log cabin quilt turned out.  My friend bought this "rag" to rescue it.  It had multiple holes, split seams, worn out edges and in generally really sad shape.  It was foundation pieced on old towels, sheets, anything cotton. The back was in pretty poor condition. It was used as a summer quilt (no batting or backing) and had seen better days.  I repaired the holes and split seams, fused some interfacing over some areas to add strength and added a nicely worn 100% cotton sheet for the back and some warm and natural batting.  My favorite "Baptist Fan" pattern was used to quilt the layers together and ta da!  It turned out great!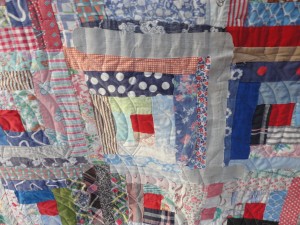 Here's an example of how the previous owner repaired it,  uses some heavy duty iron on patch (see the gray area).  I just quilted right over it.  Who am I to judge how it was fixed?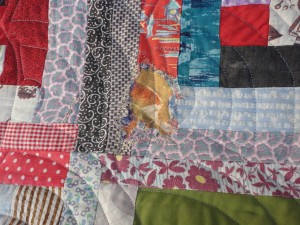 Here is one of the holes I fixed.  I know, not too discreet.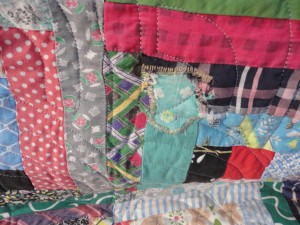 Here's another one.  At least I tried to match some of the fabric nearby.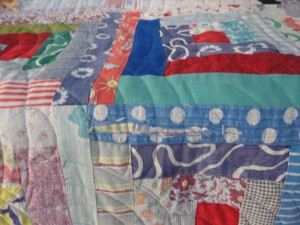 And here's one last look at how fragile some of the fabric was.  I put a fusable between the layers and then quilted over the top.  OK.  now go back to the first picture and see if you can tell anywhere that it was repaired.  Trust me, there are at least 30 places that have been repaired.  I think the whole thing is just beautiful!